Tree Top Walk, Valley of the Giants
Tinnies on the Inlet, Walpole
Pelicans on the Inlet, Walpole
Tingle Tree from Yesteryear
Aerial view of the Inlet, Walpole
Giant Tingle Tree, Walpole
Conspicuous Beach, Walpole
Welcome to Walpole, Western Australia
"North Pole, South Pole, WALPOLE! The belly button of the world"
Walpole Western Australia, is surrounded by the Walpole-Nornalup National Park and the Walpole-Nornalup Inlet System. There is so much to see and explore in the Walpole region – experience the vast spreading views from Mt. Frankland, the mirrored reflections in the quiet rivers, the glory of the wildflowers, the majesty of the trees and the world famous Valley of the Giants Tree Top Walk, the beauty of the inlets and the rugged grandeur of coast and islands. There is so much to do – boating and sailing, fishing, bush walking, scenic drives and climbing. The Walpole-Nornalup region offers all standards of accommodation – luxury chalets, motels, budget accommodation, backpackers, bed and breakfast, holiday houses and caravan parks.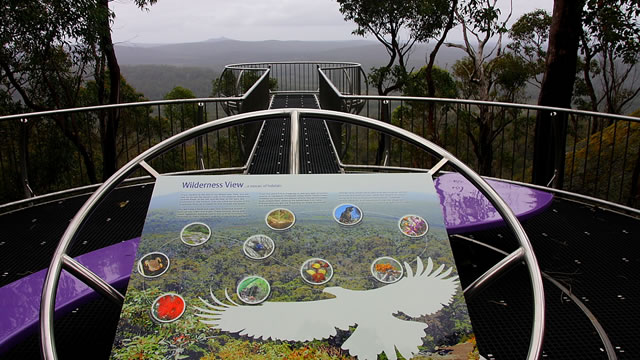 Ever heard of the famous Right break?
It's closer than you think – check out the video below to the left to see the awesome power of this break which is only accessible from Walpole! Or the amazing forests and world-class wilderness areas – one of the most biodiverse places on earth in the video to the right.